Interstate Sees Quality With Innovative Inspection Equipment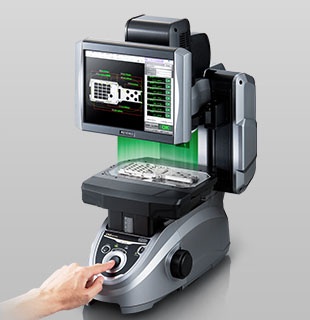 Interstate Specialty Products is building on its strong commitment to quality with a new piece of equipment. An additional fast, flexible, and fully-automated optical inspection system further enhances ISP's Quality Assurance (QA) department. Interstate's acquisition of a Keyence Instant Measurement (IM) 6225 Image Dimension Measurement System spotlights the company's innovative approach to the most accurate precision die cutting. For medical, scientific, electronic, industrial, and filtration applications, die cut products from Interstate meet tight tolerances and demanding QA requirements.
Fast, Accurate Dimensional Measurements
The Keyence IM 6225 is an optical comparator that features advanced software, high-precision optics, and an innovative stage. Thanks to automatic positioning and origin recognition, this vision-based inspection system can perform hundreds of individual part measurements at the same time. Each measurement is recorded, allowing Interstate to automatically establish ideal process capability index (Cpk) values and quality histories. The Keyence IM 6225 also supports the printing of Certificates of Analysis and Certificates of Compliance.
Interstate's latest vision-based inspection equipment allows the export of part measurement and quality data in .CSV file format. This allows QA personnel to then import the data and review this information using a variety of software applications, including Microsoft Excel. In addition, the optical comparator supports automatically-populated histograms, trend graphs, and inspection reports for quality assurance. For fast, accurate dimensional measurements, the IM 6225 offers unmatched speed, accuracy, and flexibility.
Fully-Automated and Vision-Based
Interstate's Keyence IM 6225 is fully-automated with features such as automatic focus adjustment, edge detection, and defect identification, which ensures efficient QA processing and consistency among varying operators. The optical comparator's physical and graphical user interface are easy-to-use, which also supports faster processing speeds for more rapid results.
For Interstate's customers, the IM 6225's automated focus adjustment means that we can see fine details with minimal calibration for reduced labor costs. The inspection equipment's sub-pixel processing capabilities can also detect edges and identify chips and burrs with ease. As an experienced die cutter with a demonstrated commitment to quality, Interstate ensures quality with the new IM 6225 as well as with their Micro-Vu and Virtek Laser QC systems.
Inspection Equipment at Interstate
Interstate Specialty Products is ready to answer your questions about their commitment to quality assurance for die cut components, including high performance gaskets, seals, membranes, vents, and filter media. To learn how our Keyence Instant Measurement (IM) 6225 Image Dimension Measurement System can support your application, contact us on-line or call (800) 984-1811.
*Properties and applications shown throughout this website are typical. Your specific application should not be undertaken without independent study and evaluation for suitability.