Interstate Specialty Products offers custom die cut solutions as well as a standard line of Porex® vents for medical and scientific, electronics, and industrial applications.
Advantages of Porex® PTFE Vents
Resists pore closure under pressure
Porous plastic minimizes condensation and prevents the entry of dust, dirt, water and other contaminants
Porex® vents are UV and weather resistant, chemically inert, flame-rated, UL-listed
Feature IP ratings and meet NEMA standards
Applications for Porex® Vents
Porex® vents are used in outdoor electronics. Medical applications include arterial syringe vents that help to eliminate blood bypass, and self-sealing IV catheter vents.
Automotive applications for Porex® vents range from batteries and motors to fuel filters and gas gaps. Porex® PTFE membrane materials are also used in breathable seals and acoustic vents.
Stock Product Offering- Protective Adhesive Vents
MATERIAL SERIES
DIMENSIONS
OD/ ID (MM)
PMV10L
PMV15
PMV20

7.0/ 3.0 (N)

SIZE N

SIZE N

SIZE N

10.0/ 7.0 (I)

SIZE I

SIZE I

SIZE I

12.7/ 7.1 (W)

SIZE W

SIZE W

SIZE W

20.0/ 13.0 (C)

SIZE C

SIZE C

SIZE C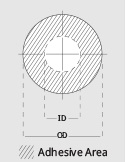 Material
Spec
Sheets
IP Rating
WEP mbar
Airflow
(l/hr/[email protected])
Filtration Efficiency
Thickness MM
Max Operating Temp
UL- 94/ 746C*

PMV10L**

64, 67, 68

270

85

0.5µ

0.30

100C

–

PMV15

64, 67, 68

380

70

0.4µ

0.18

260C

V-O/ f1

PMV20

64,65, 68

520

34

0.1µ

0.25

260C

V-0/ f1
** Laminated polyolefin mesh backing
*Properties and applications shown throughout this website are typical. Your specific application should not be undertaken without independent study and evaluation for suitability.