ISP offers a standard line of POREX® Virtek™ IP-rated PTFE vents for medical and scientific, electronics, and industrial applications.
Advantages of POREX® Virtek™ Vents
POREX Virtek™ PTFE Protection Vents used in sealed devices allow pressure equalization and ventilation due to temperature changes, and minimizes condensation while keeping dust, dirt, and liquid moisture out. POREX Virtek™ sintered PTFE membrane is UL 94 V-0 and UL 746C listed, tested to meet all IP ratings, and can meet NEMA or other test standards.
Robust sintered porous structure (safe to handle)
Minimizes condensation and prevents the entry of dust, dirt, water and other contaminants
POREX® vents are UV and weather resistant, chemically inert, thermally resistant, UL-listed
Omni-directional flow
Applications for POREX® Virtek™ Vents
Electronic applications: The vents are designed to have low acoustic loss, with applications including wind screens for microphones, and vents for electronics and general sound dampening components.
Medical applications: Arterial syringe vents that help to eliminate blood bypass, and self-sealing IV catheter vents.
Automotive applications: Ranging from batteries and motors to fuel filters and gas caps, the vents are most often used in automotive lighting due to their ability to reduce moisture buildup and condensation
MATERIAL SERIES
DIMENSIONS
OD/ ID (MM)
PMV10L
PMV10
PMV15
PMV20
PMV27
PMV30

5.0/2.0

SIZE M

SIZE M

SIZE M

SIZE M

SIZE M

7.0/3.0

SIZE N

SIZE N

SIZE N

SIZE N

SIZE N

10.0/7.0

SIZE I

SIZE I

SIZE I

SIZE I

10.0/6.0

SIZE P

SIZE P

SIZE P

SIZE P

SIZE P

12.7/7.1

SIZE W

SIZE W

SIZE W

SIZE W

SIZE W

SIZE W

20.0/13.0

SIZE C

SIZE C

SIZE C

SIZE C

SIZE C

SIZE C
PMV15 Additional Options
12.7 / 7.1
Oleophobic & High Temperature Adhesives
PMV15TWH
*size P available when I inventory is depleted
*PMV27 Vents available when PMV30 inventory is depleted
*PMV15TWH changing to PMA10 once inventory is depleted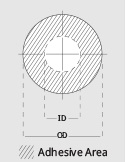 Material
Spec
Sheets
IP Rating
WEP mbar
Airflow
(l/hr/[email protected])
Filtration Efficiency
Thickness MM
Max Operating Temp
UL- 94/ 746C*
Salt Fog

PMV10L**

64, 67

270

85

0.5µ

0.30

100C

–

No pen.

PMV15

64, 67

380

70

0.4µ

0.18

260C

V-O/ f2

No pen.

PMV20

64,65, 68

520

34

0.1µ

0.25

260C

V-0/ f2

No pen.

PMV30

65,66,67,68

1000

4.5

0.1µ

0.25

260C

V-0/ f2

No pen.
WEP = Water Entry Pressure
RoHS, WEEE, REACH Compliant
*IEC std. 60529, IP 68 is a user defined test; will pass condition dependent
** According to IEST RP-CC007.2 2009
***Laminated polyolefin mesh backing
Properties and applications shown throughout this website are typical. Your specific application should not be undertaken without independent study and evaluation for suitability. The properties listed above are for the membranes only, selected options and adhesives may affect properties.