Outsourcing Advice and Die-Cutting Services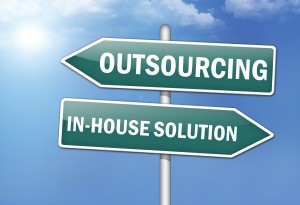 Are you thinking about outsourcing some of your company's operations? The decisions you make could affect more than your bottom line. Outsourcing can promote innovation, enabling employees to take on new tasks that lead to breakthroughs in products or processes. Yet outsourcing can also put your business at a competitive disadvantage. For example, if you pick a partner who fails to protect intellectual property and designs, your trade secrets could become industry knowledge.
Making the wrong decision about outsourcing could also result in receiving components that don't meet your company's quality standards. Rework is an option, but at what cost? Low product quality can damage your brand, and expensive last-minute shipments can break your budget. Unfortunately, many businesses consider only the price per unit in their outsourcing decisions. When you consider whether to outsource a project then, it's critical to capture all of your costs and evaluate a potential partner's supply chain strength.
For example, some companies decide to outsource gasket fabrication after analyzing their manufacturing overhead (MOH) costs. These businesses are capable of performing their own die cutting operations, but their factory burden suggests it's not cost-effective to do so. There's also the matter of opportunity costs – the loss of a potential gain when you choose one alternative instead of another. If die cutting is important for operational performance but not strategically important to your enterprise, it can be outsourced.
Outsourcing includes custom manufacturing, but don't forget about logistics. Just-in-time (JIT) deliveries keep assembly lines humming in a variety of industries. If the way that you deliver die cut gaskets to an assembler isn't critical, then outsourcing your logistics makes sense. That's true for general industry, and also for markets such as medical, scientific, and electronics. Remember, however, to determine whether your partner can keep costs low if your production volume falls.
Interstate Specialty Products is a Made in the USA manufacturing company with a 50-year track record of die cutting gaskets and other non-metallic parts for a wide range of industries. Our Sutton, Massachusetts facility is home to a wide variety of fabrication equipment, converting knowledge and experience, and tooling expertise. To learn how our custom manufacturing capabilities can support your outsourcing strategy, contact us on-line or call (800) 984-1811.