Die-Cut Condux Plus Electrically-Conductive Foam
Condux Plus from Rogers Corporation is an electrically-conductive foam that provides outstanding protection against electromagnetic interference (EMI). Designed for use in mobile Internet and other handheld devices, this high-performance foam also has consistent mechanical properties. Sheets of Condux Plus foams will not deform during processing, and Interstate Specialty Products can die cut gaskets with clean, straight edges.
Grounding Pads and EMI Shielding for Handheld Electronic Devices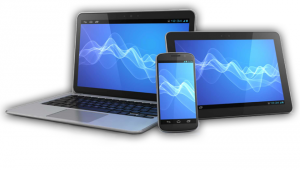 Condux Plus is used for grounding pads in mobile electronic devices where enhanced conductivity and EMI shielding are required. Whether uncompressed or fully compressed, this thin conductive foam helps to maintain the integrity of even the most complex electronic designs. Condux Plus foams also maintain their thickness under temperature and load, and feature a low compression set that supports gasket reliability.
Condux Plus materials from Rogers Corporation can be stacked to fill gaps, and help to prevent undesirable electromagnetic fields by connecting two conductive materials with different electric potentials. Tested according to IEEE-299, these electrically-conductive foams have an excellent shielding effectiveness over an operating frequency range of 200 Mhz to 10 GHz.
From Electrically-Conductive Foam Sheets to Die-Cut Condux Plus Gaskets
Condux Plus foams are available in sheets with thicknesses of 0.33, 0.53, and 0.73 mm. With its high degree of material integrity, this electrically-conductive foam for grounding pads and EMI shielding will not collapse during initial processing. Die-cut gaskets made of Condux Plus also maintain their shape and integrity during product assembly and throughout the useful life of the handheld electronic or mobile Internet device.
Does you need custom die cut gaskets for enhanced electrical conductivity and EMI shielding? Would you like to learn more about Condux Plus foams from Rogers Corporation, and how precision die cutting can support small parts and tight tolerances in mobile devices? To learn how Interstate Specialty Products' die cutting capabilities can support your application, contact us on-line or call (800) 984-1811.