Balance Die Cutting Tolerances with Die Cutting Costs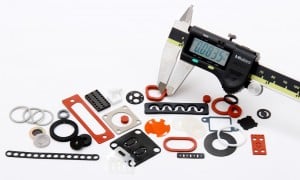 Die cutting is a manufacturing process that produces parts of the same shape and size from sheets, webs, or rolls of materials. Specially-shaped tools called dies cut parts or blanks with varying degrees of precision.
This table from Interstate Specialty Products shows our die cutting tolerances for non-metals based on maximum material conditions.
| | |
| --- | --- |
| Part size | Tolerance |
| Under 5″ | ± 0.005″ |
| 5″-12″ | ± 0.010″ |
| Over 12″ | ± 0.015″ |
To avoid misalignments or improper sealing, parts tolerances are important to consider. To control your die cutting costs, however, don't specify part tolerances that are tighter than you really need.
Die Cut Elastomeric Parts
As a converter of non-metallic materials, Interstate Specialty uses dies with high-precision steel rule and rotary die cutting machines, high tonnage beam presses, high-speed punches, specialty shears, and high-speed digital die-less systems. Because many of the materials that we convert are elastomeric, we know that it's difficult to hold die cut rubber parts to the tight tolerances common in metalworking operations.
Yet it's not uncommon for design documents to indicate that all part dimensions, unless otherwise specified, should be held to +/- 0.005 inches. This tolerance is easy to reach with metal parts such as gear and shafts, but is expensive (and in some cases impossible) to achieve with die cut elastomeric parts such as seals and gaskets. Moreover, these tight tolerances are often unnecessary.
Die Cut Part Deformation and Part Tolerances
Typically, the tolerances of die cut elastomeric components are less critical than with metal parts. This is because during the assembly process, many die cut elastomeric parts are deformed to match the geometry of the harder or plastic material with which they interface. If your application involves a rubber seal, gasket, or insulation then, it's important to consider part deformation.
Part designs should also account for die costs. For example, typical tolerances for steel rule dies used to produce short runs of die cut parts are +/- 0.005 inches, resulting in a final part tolerances of +/- 0.010 to +/- 0.15 inch. On the other hand, solid milled dies are built typically to tolerances of +/- 0.002 inch and provide a final part tolerance of +/- 0.005 to +/- 0.010.
Die Cutting Expertise
Interstate Specialty Products combines state-of-the-art tooling and manufacturing with industry-leading expertise to convert non-metallic materials, including customer-supplied proprietary materials. We can produce miniature components and large, complex parts in runs that number in the dozens or the millions, according to your requirements.
To learn more about our custom manufacturing capabilities, and how to balance die cutting tolerances with die cutting costs, contact us on-line or call (800) 984-1811.